A Letter from Ross Ulbricht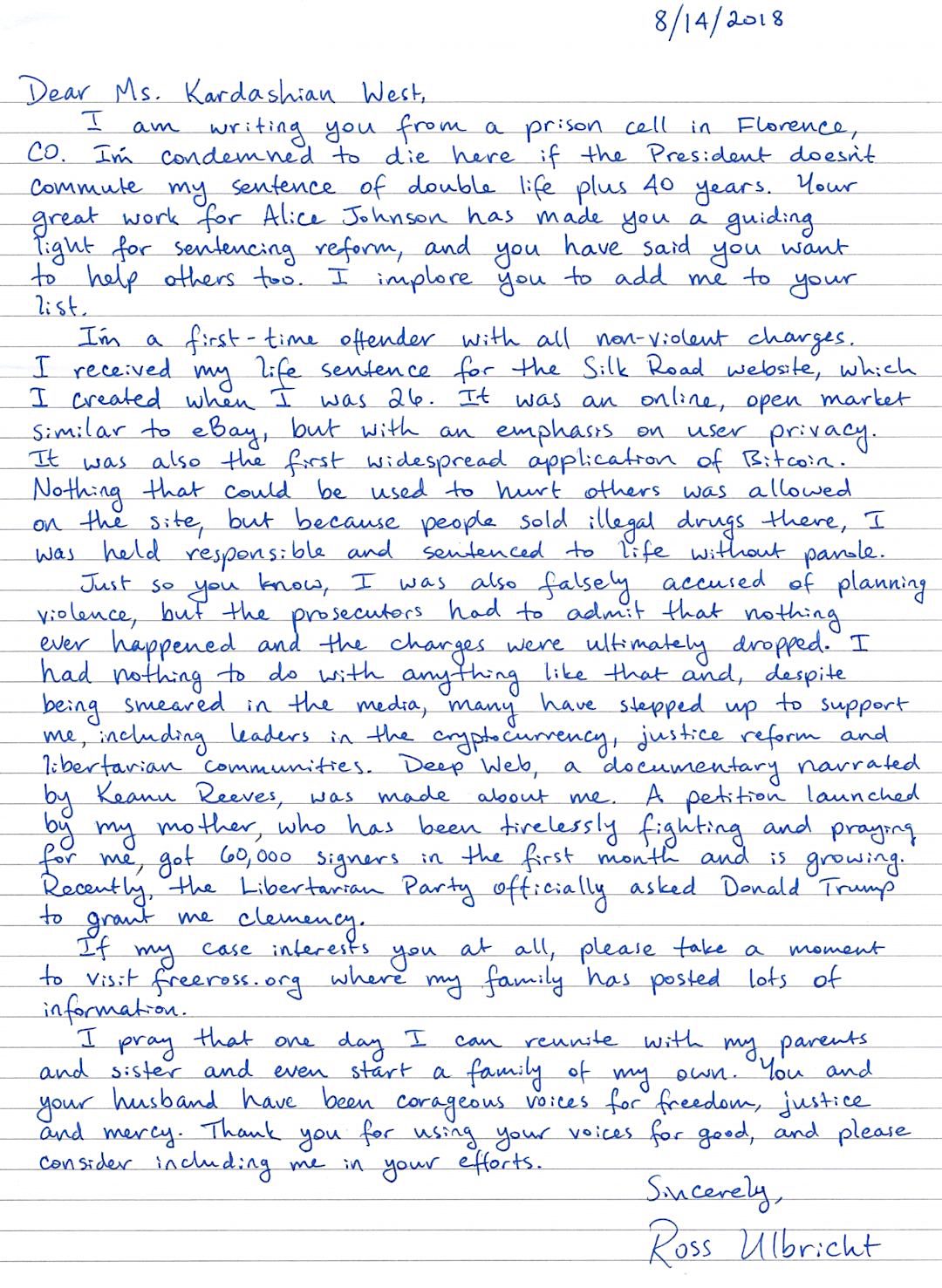 8/14/2018
Dear Ms. Kardashian West,
I am writing you from a prison cell in Florence, Colorado. I'm condemned to die here if the President doesn't commute my sentence of double life plus 40 years. Your great work for Alice Johnson has made you a guiding light for sentencing reform, and you have said you want to help others too. I implore you to add me to your list.
I'm a first-time offender with all non-violent charges. I received my life sentence for the Silk Road website, which I created when I was 26. It was an online, open market similar to eBay, but with an emphasis on user privacy. It was also the first widespread application of Bitcoin. Nothing that could be used to hurt others was allowed on the site, but because people sold illegal drugs there, I was held responsible and sentenced to life without parole.
Just so you know, I was also falsely accused of planning violence, but the prosecutors had to admit that nothing ever happened and the charges were ultimately dropped. I had nothing to do with anything like that and, despite being smeared in the media, many have stepped up to support me, including leaders in the cryptocurrency, justice reform and libertarian communities. Deep Web, a documentary narrated by Keanu Reeves, was made about me. A petition launched by my mother, who has been tirelessly fighting and praying for me, got 60,000 signers in the first month and is growing. Recently, the Libertarian Party officially asked Donald Trump to grant me clemency.
If my case interests you at all, please take a moment to visit FreeRoss.org where my family has posted lots of information.
I pray that one day I can reunite with my parents and sister and even start a family of my own. You and your husband have been courageous voices for freedom, justice and mercy. Thank you for using your voices for good, and please consider including me in your efforts.
Sincerely,
Ross Ulbricht